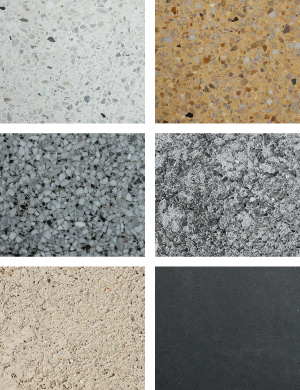 Resource Type

Finishes

Product

High Performance Insulated Wall Panels, Insulated Architectural Cladding
With CarbonCast Enclosure Systems, you can select from a variety of cement colors, pigments and aggregates to create a distinctive wall surface. These 25 samples demonstrate the versatility and remarkable visual range possible with CarbonCast walls. Finish options, aggregate choices and other aesthetic treatments vary depending on geography and precaster.
Your AltusGroup precaster will help with a mix design that meets your aesthetic desires as well as technical requirements.
You can also incorporate eye-catching patterns, images and designs using the Graphic Concrete process from your AltusGroup precaster. It's an ideal way to add a distinctive, highly aesthetic look to complement the palette of precast finishes.
Click on a thumbnail to enlarge and zoom to see texture.